Feb dates in Jax covid -cancelled; poss. re-schedule July; stay tuned
Principal of the Academy
Robert Wallace is one of the world's leading bagpipe educators. A double Gold Medal winner and professional bagpiper, he has taught piping all over the world including the US, Canada, Australia, South Africa and Europe. He is a senior adjudicator for solo competition and an examiner for the Piping and Drumming Qualifications Board. Mr Wallace is also President of the Piobaireachd Society and editor of the web magazine, pipingpress.com.
Snr. Piping Instructor - P/M Barry Donaldson
P/M Donaldson is a ten times winner of the World Pipe Band Championship with the legendary Strathclyde Police Pipe Band and a solo piper of renown. He works full time as a teacher of piping. He has taught extensively abroad more so now that he has retired from his duties as a serving police officer. Barry is also an assessor for the Piping and Drumming Qualifications Board and a senior solo adjudicator and adjudicator for the RSPBA.
Piping Instructor - Matt Pantaleoni
Matt is a piping instructor in St. Louis, Missouri, and spends a part of each summer in Scotland competing around the Highland games circuit. Matt started piping in 1997 and studied primarily with the late P/M Alasdair Gillies and Jimmy McIntosh. As an amateur, he won the USPF championship twice in 2001 and 2002. He has featured in the prize list multiple times at the Dunvegan Medal (Skye) and is a holder of the Braemar Gold Medal as well as having collected numerous prizes around the Highland games circuit. His pupils have achieved great competitive success in North America, including the overall at the Balmoral Classic and prizes in the Nicol-Brown and George Sherriff invitationals.
Piping Instructor - Donald McBride
Donald is a fiormer pupil of the great Donald MacPherson. He also received piobaireachd tution from Andrew Wright and for many years came under the influence of P/M RG Hardie in the legendary Muirhead & Sons Pipe Band. Donald is a multiple prizewinner in Scotland being runner up in the prestigious Gold Medal competition on three occasions. However he seldom competed and this makes his success all the more remarkable. Donald lives in Kansas and Donegal, Ireland. He has scores of pupils who appreciate his inate ability to pass on his knowledge and skill.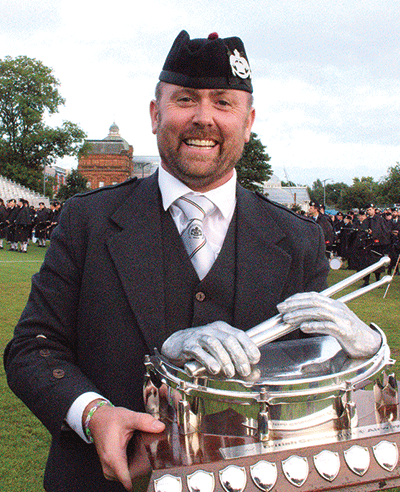 Snare Drum Instructor - Stephen Creighton

Stephen is the lead drummer with the World Championship winning St Laurence O'Toole Pipe Band, Dublin, Ireland. His honours include, as a solo drummer, the 1989 World Junior Championship, 19 World Solo Finals, 5 Senior all Ireland Championships and 3 Ulster Senior Championships. With his corps, Stephen has won five Grade 1 All Ireland drumming titles, two Champion of Champions titles, and six World Drum Cops titles plus the 2010 World Pipe Band crown. Stephen is married to Amanda and has four children; Stephen Junior, Keith, Glen and Hannah.​
Bass & Tenor Instructor - Simon Hodgett

Simon Hodgett is from Blackskull, Northern Ireland. He began playing the snare drum as a 10-year-old. He was taught snare drum for a number of years by ex-Field Marshal Montgomery drummer Keith Gourley who introduced him to a pair of tenor sticks - and it's been his passion and obsession ever since. He joined SLOT in 2013 and has enjoyed successes with over 20 RSPBA & IPBA Major titles including 4 World Drumming Champion titles. In Northern Ireland & Ireland he has coordinated and instructed several bass sections and solo players including at Winterstorm in Kansas City.